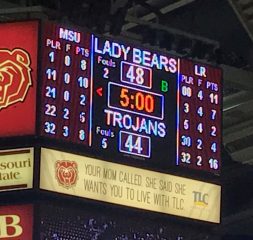 On a day when offense was hard to come by, the Missouri State Lady Bears made up for it with a strong defensive effort and near perfect shooting at the free throw line in a 48-44 win over the Arkansas-Little Rock Trojans Sunday afternoon at JQH Arena.
MSU and UALR set a JQH Arena record by failing to make a three pointer as the Lady Bears went 0-9 from long distance and the Trojans 0-6.
Missouri State shot only 32% from the floor, and the Trojans weren't much better, hitting 36%.
But the Lady Bears made 14 of 15 free throw attempts, which turned out to be the difference in the game as Little Rock hit six of nine foul shots.
Missouri State also won the battle of the boards (40-28), which MSU Coach Kellie Harper says was a key to her team's success "Our transition defense was important. We knew rebounding was going to be critical," Harper said. "That was going to be a big way they would score baskets, and I thought we did a heck of a job defensively on the boards, and then getting to the free throw line and knocking them down. When you're not scoring out on the floor, you're just not making shots and you're shooting contested shots, you've got to get yourself to the free throw line and when you get there, you've got to knock them down, and we did."
Missouri State led 21-16 at the half, then opened up a 37-29 lead at the end of the third period.
The Lady Bears went up 39-29 with 9:24 left in regulation when Jasmine Franklin hit a jumper.
But the Trojans (4-7) came storming back, using a 13-2 run to take a 42-41 lead when Kyra Collier hit a shot with 4:18 remaining.
That lead was short-lived, as Brice Calip put the Lady Bears back in front 43-42 with a jumper at the 3:48 mark.
UALR managed to get within a point, 45-44 on a layup by Raeyana DeGray with 51 seconds left.
Alexa Willard hit one of two free throw attempts with 16 second to go to put MSU up by two, 46-44.
The Trojans had a shot to get the game tied or win it with a three, but Tori Lasker missed a shot with 14 seconds left and Franklin hit two free throws to seal the win for the Lady Bears.
Calip finished with ten points to lead MSU in scoring, with Franklin and Danielle Gitzen scoring eight points each.
Collier led Little Rock with 16 points.
Calip says it was a basket by basket grind-it-out win for the Lady Bears. "I thought we fought very well whenever they went on their run in the second half, just not backing down, just trying to get stops, keeping our heads up and pushing through."
Missouri State (4-7) takes a three game winning streak into its conference opener on Friday, January 4th against Indiana State at JQH Arena.
Tipoff is set for 7:00 p.m.
Game Notes: 
The last time Missouri State failed to hit a three pointer in a game was in March, 2012. The last time both the Lady Bears and their opponent went an entire game without a trey was March 13th, 1993 as then SMS beat Southern Illinois 54-53 in the Missouri Valley Conference Tournament championship game at Hammons Center.
Missouri State's 48 points marked the team's fewest in a win since a 47-44 win over Western Illinois in December 2006.
Sunday's announced attendance at JQH Arena for the first half of a women's/men's doubleheader was 2,045.