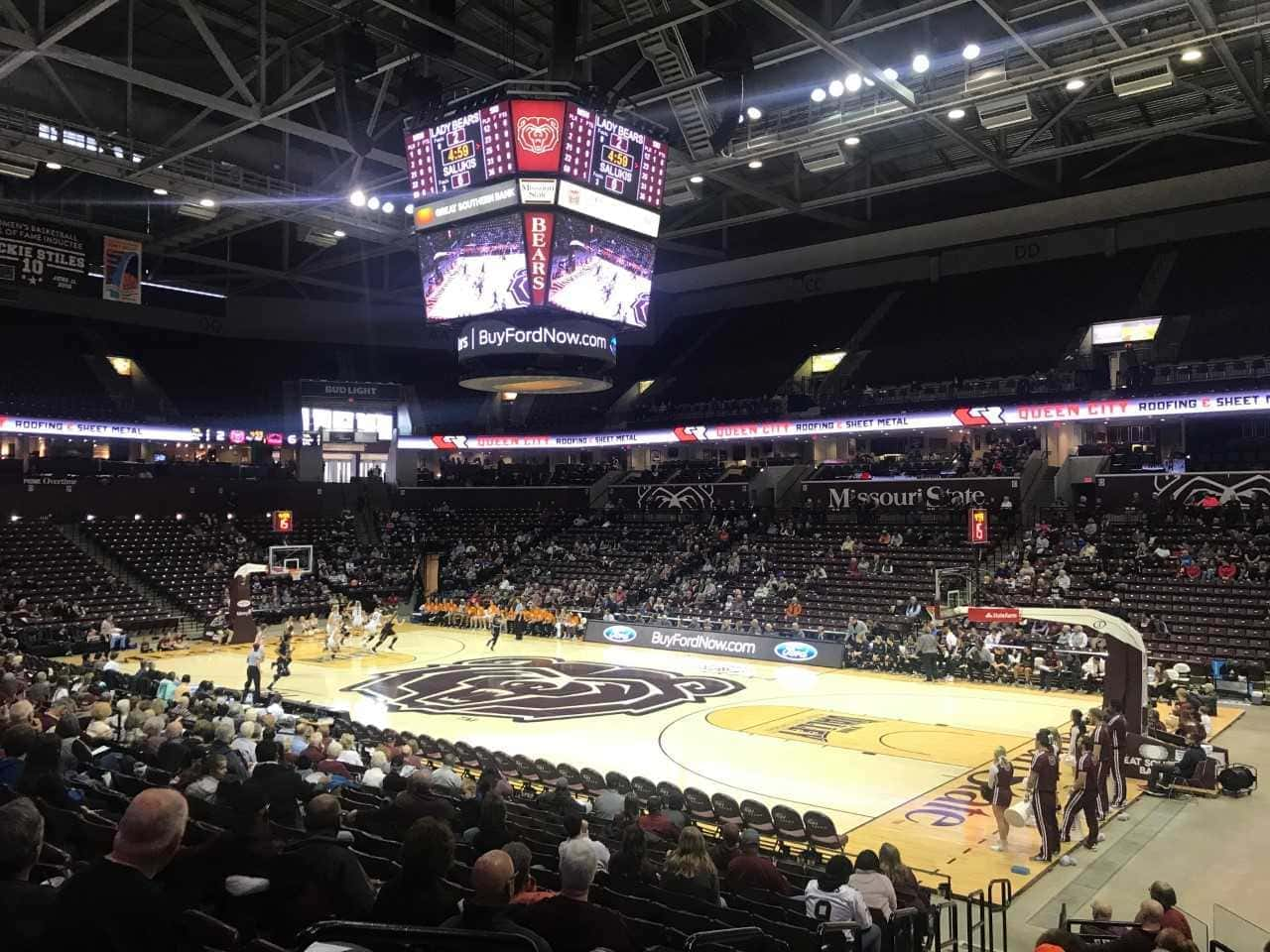 The Missouri State Lady Bears get 18 points from Alexa Willard and a third straight double-double from Jasmine Franklin to beat the Southern Illinois Salukis 66-51 Sunday afternoon at JQH Arena.
It's the sixth straight victory for the Lady Bears, who gave Kellie Harper her 100th win as Missouri State's coach.
The win also gets MSU to the .500 mark (7-7) for the first time this season and keeps the Lady Bears undefeated in the Missouri Valley Conference at 3-0.
The Salukis jumped in front early as Nicole Martin hit three shots in the first three and a half minutes of the game to put SIU ahead 6-1.
But junior Alexa Willard got hot for Missouri State, getting back to back buckets to tie the game 6-6 with 4:30 left in the opening quarter.
Southern Illinois briefly went back in front 8-6, but senior Danielle Gitzen's jumper tied the game and freshman Sydney Wilson put MSU ahead to stay at the 2:27 mark when she hit a shot, got fouled, and connected on a free throw to give the Lady Bears an 11-8 advantage.
By the time MSU's 20-4 run through the first and second quarters came to an end, the home team had built up a double-digit lead, 21-10.
Missouri State led 29-14 at the half, then got the ball into Franklin's hands to start the third quarter as the freshman hit a jumper to give the Lady Bears a 17 point advantage, 31-14.
The Salukis turned to their outside game to claw back into the contest, draining three treys in the third quarter to briefly cut MSU's lead to single digits, 40-31, with 3:32 left in the third quarter.
But when Missouri State needed to start a run, it came up big when freshman Mya Bhinhar got back to back buckets late in the third, and SIU could only close within ten of the lead in the final frame.
Franklin finished the game with ten points and 14 rebounds, and Gitzen also had ten points.
The Lady Bears failed to make a three pointer, putting up only three attempts the entire game, but outscored SIU 44-20 in the paint.
Harper says that's the stat she's most proud of.  "You can look at the 0-3 from the three point line, but the way I look at this, our team is doing a great job getting the ball to the paint and being physical, getting ourselves to the free throw line," Harper said.  "We're taking what we need to take. We're not forcing a lot of things. We're looking to pass inside. We're penetrating inside. I'm proud of that. I love the style that we're playing right now."
Gitzen also likes it. "We didn't have any three's tonight, but definitely utilizing our post alot has been very beneficial for our team this year, and it just opens up a lot of options for us."
Harper was asked how much 100 wins at Missouri State means to her: "I was joking with Tom Ladd at my radio show that if winning 100 games was my goal, then I would probably schedule a lot differently than we schedule. To have milestones at a university like Missouri State, that's special, and this is a really special program and special university that I'm thrilled to be a part of."
Martin finished with 19 points to lead Southern Illinois, who drops to 8-6 overall, 1-2 in the Valley.
The Lady Bears will hit the road for their next two games, playing at Bradley Friday night at 7:00 p.m., before a Sunday afternoon 2:00 p.m. tip at Illinois State.
Game Notes: 
Harper's 100th win as Lady Bears head coach comes in her 176th game, putting her behind only Cheryl Burnett in terms of the fewest games needed to reach the 100 win milestone at the university.
MSU has won 11 consecutive Valley home games, a new record high since moving into JQH Arena for the 2008-09 season. The Lady Bears are 21-4 in their last 25 home games.
The Lady Bears are 13-2 in their last 15 games against Southern Illinois, and have won 12 straight games against the Salukis in Springfield.
Sunday's game marked the annual "We Back Pat" game, with donations to the Pat Summitt Foundation to help find a cure for Alzheimer's disease. Harper was a point guard for Summitt's Tennessee Lady Vols in the late 1990's.
Sunday's announced attendance at The Q was 1,867.