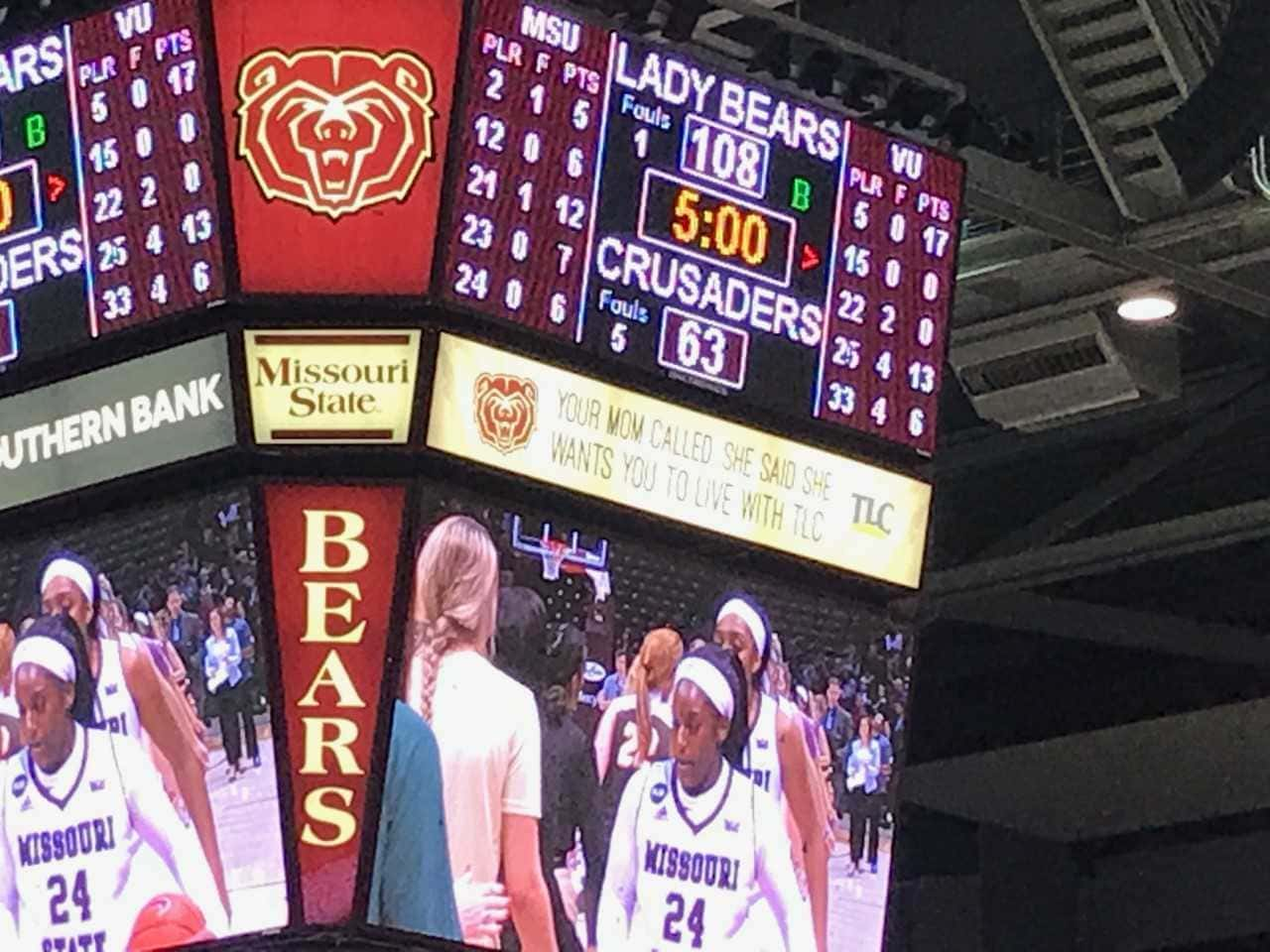 The Missouri State Lady Bears scored their most points in a game in more than 20 years Sunday, downing Valparaiso 108-63 at JQH Arena and winning their tenth straight game.
The victory keeps the Lady Bears perfect in the Valley at 7-0 and raises their overall record to 11-7.
A minute and a half into the contest, MSU actually trailed, 5-4, but Abby Hipp his a shot underneath with 7:31 left in the first quarter, giving her team a 6-5 lead.
That started a 20-2 run that saw Missouri State take a 24-7 lead and never look back, going up 27-13 after one quarter and 51-25 at the half.
Then, records began to fall.
The Lady Bears set a team record for most points in a quarter with 33 in the third, then hit the century mark for the first time 2011 when Mya Bhinhar hit a free throw with 2:10 left in regulation, giving Missouri State a 100-59 lead and bringing 2,886 fans to their feet.
Sophomore Bri Ellis came off the bench and hit two three pointers in the final to minutes of the contest.
In fact, all 13 players on the Lady Bears roster not only got into the game, but all of them scored, including sophomore Sydney Schultz, who put in six points.
The 108 points are the most for MSU since scoring a school record 120 against Davidson on November 13th, 1998.
The Lady Bears had five players score in double figures, and two players with a double-double, including Jasmine Franklin with ten points and ten rebounds, and Sydney Wilson with 12 points and ten rebounds.
Shay Frederick led Valparaison (5-14, 1-6) with 17 points.
The Crusaders hit 13 three pointers to Missouri State's nine, but MSU outscored Valpo 54-18 in the paint.
Lady Bears Coach Kellie Harper getting the ball inside is a big part of the plan. "We've really been working hard on getting the ball in the paint to score, whether that's passing or driving, and I think that gives us really good balance," Harper said "I think it's hard to guard. We get to the free throw line a lot. I think it puts a lot of pressure on our opponent defensively. Sometimes guarding three's, you don't exert a lot of energy. We're playing physical right now. I love the brand of basketball we're playing."
Senior Danielle Gitzen, who put in 12 points, was all smiles in the postgame press conference. "It was fun, that's for sure. Everyone got in, everybody scored.
Gitzen says it was pretty special hearing the fans go nuts when the Lady Bears hit 100 points. "Honestly, I wasn't even paying attention and she shot the free throw and everyone was going crazy and I was like, okay what's the big deal? Then I looked (at the scoreboard) and I was like, okay, let's go!"
Harper says the Lady Bears, who are off to their fourth best undefeated start ever in Valley play, are drawing inspiration from Dana Ford's men's basketball team. "I really think our team has been playing off of the men. They've talked about it. We all get excited for everybody when they're playing well. We're so happy for them and when our team can see the men and their defense and how it's holding strong, I think it's motivating. Hopefully we motivate those guys some too. It's a lot of fun when you work hard, play hard and defend."
Missouri State now gets set for a first place showdown in the Missouri Valley Conference with the Drake Bulldogs Friday night in Des Moines.
Tipoff is set for 6:00 p.m.
Game Notes: 
Missouri State's 108 points tops the JQH Arena record of 104, set by the Lady Bears against Morgan State on December 18th, 2011. It's also the most points scored by MSU against a Valley opponent (previous record 107 against Evansville on 1/2/96 and 3/8/03).
MSU's 64.% field goal percentage shatters the previous JQH mark of .578 against Wichita State on 2/27/16 and is the tenth best percentage in school history.
The 41 field goals for the Lady Bears ties for the team's fifth best total all time.
Valparaiso tied a JQH Arena record for opponents with 13 three pointers.
Missouri State's 14 game conference winning streak is the team's third highest overall. The record is 24 straight conference wins by the Lady Bears from 1/9/99-2/3/00.
Dozens of former players, coaches and other MSU women's basketball alum were in attendance Sunday celebrating 50 years of women's basketball at the university.
https://soundcloud.com/947ktts/kellie-harper-postgame-1-27-19