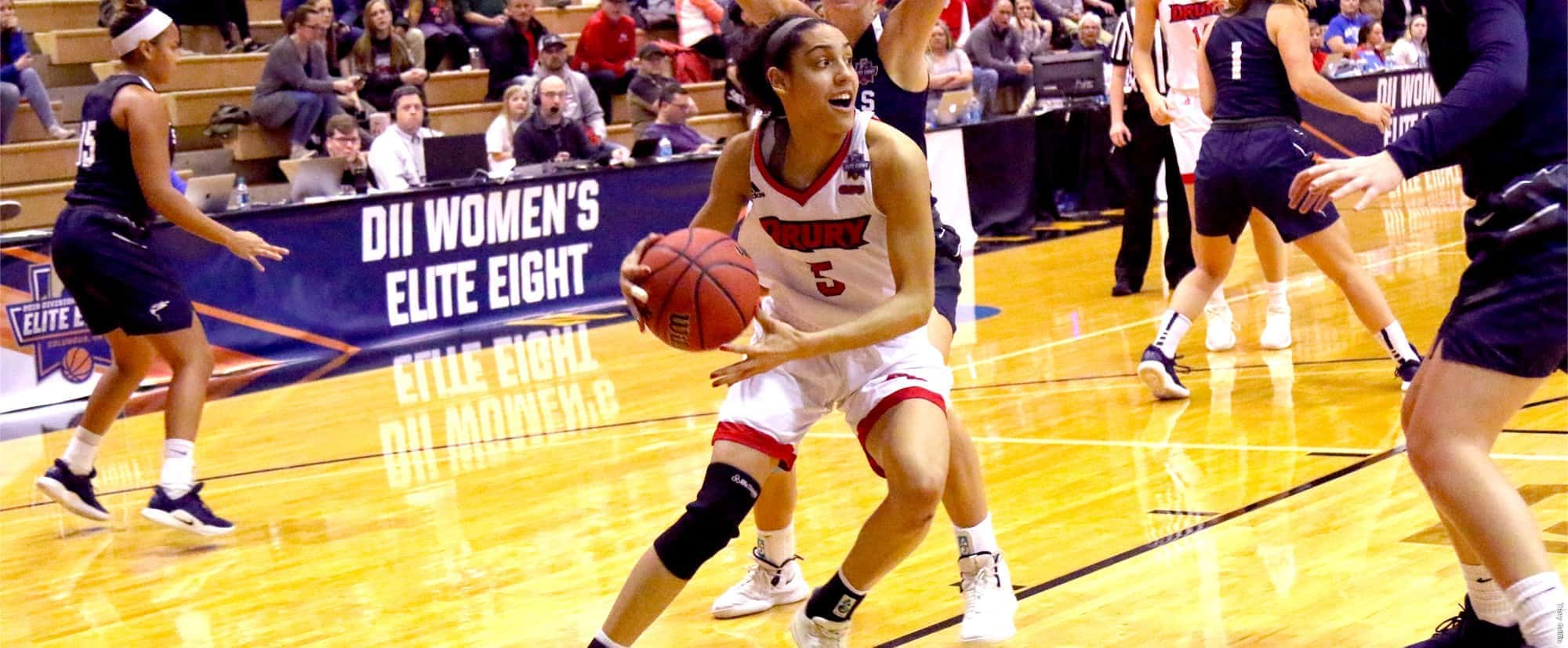 COLUMBUS, Ohio— It turned into another vintage Lady Panthers performance in the NCAA-II Elite Eight quarterfinals as number one ranked Drury forced 40 turnovers and pulled away from Nova Southeastern in the second half to win 91-60 in Columbus, Ohio on Tuesday night.
The Lady Panthers advance to the NCAA-II semifinals on Wednesday and will play the winner of fourth-seeded North Georgia and number five seed Lubbock Christian at 7:30 pm (Central).
Drury led 21-15 after the first quarter but Nova Southeastern pulled within one point of the lead, 23-22 with 7:38 remaining in the half. The Lady Panthers outscored the Sharks 17-5 for the rest of the half to go ahead 40-27 at the break, then blew the game open in the second half.
Hailey Diestelkamp scored a game-high 26 points on 10 for 19 shooting from the field with 17 of her points coming in the second half. Daejah Bernard had first double-double of the season scoring 10 points and grabbing a career-high 11 rebounds. The junior from St. Joseph, Missouri added seven assists and six steals.
Brooke Stanfield chipped in 14 points and had nine in Drury's decisive run late in the second quarter.
Jordan Tully had 19 points to lead Nova Southeastern.
Drury forced 20 turnovers against the Sharks in the first half, and somehow maintained the pace creating 10 more in the third quarter and another 10 in the fourth. The Lady Panthers had 19 steals with Bernard credited for six, Lauren Holmes had five and Diestelkamp added another four.
Drury shot 47 percent from the field in the game going 36 for 77. The Sharks shot 52 percent in the game but were limited to 44 shots as they connected on 23.
The Lady Panthers win puts them in the national semifinals for the second time in program history and for the first time since 2004.
In the earlier session of the quarterfinals, third-seeded Indiana (Pa.) advanced past number four seed Azusa Pacific 73-60, and second-seeded Southwestern Oklahoma State defeated number seven Saint Anselm 71-61.
Wednesday's Drury game will be broadcast live on the CBS Sports Network and JOCK 98.7 FM in Springfield.
Courtesy of: Drury Athletics Communications 
Stats from the @DULadyPanthers Elite Eight win over Nova Southeastern #allweDUiswin pic.twitter.com/vJtfwXnAcf

— Drury Panthers (@drurypanthers) March 27, 2019