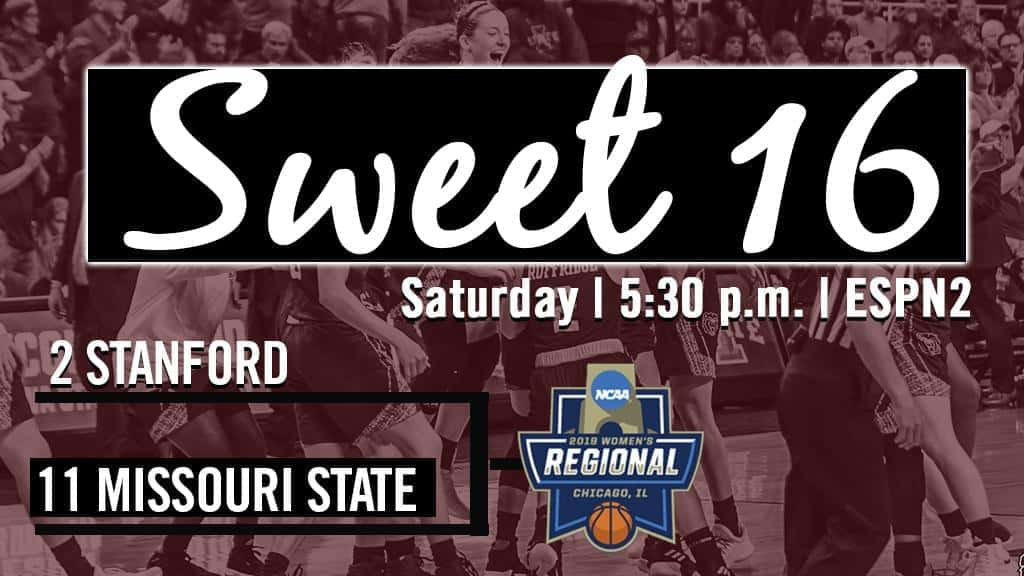 Fans still have plenty of ways to watch the Missouri State Lady Bears trip to the Sweet 16 in Chicago.
The Lady Bears will play Stanford at 5:30 Saturday.
The game will be televised on ESPN 2.
Tickets are still available for the game.
Travel packages are also available for both students and Bears fans.
Thank you to all of the @MSULadyBears fans who have supported and followed this team this season, from up close and afar. Excited to continue this journey with such a special team. #MSUBears #LadyBears #ncaaW

— Kellie Harper (@KellieHarper) March 26, 2019
Here's more from Missouri State:
SPRINGFIELD – Tickets are still available and fans have a number of opportunities to enjoy the Missouri State Lady Bears journey to the Sweet 16 both in Chicago and in Springfield.
Tickets are still available by calling The Bears Fund at 417-836-4143. Tickets will be allotted to current season ticket holders with priority points within The Bears Fund first, fans who have priority points but are not current season ticket holders second, and season ticket holders without priority points third.
Tickets separate from Missouri State's allotment are available at this link.
MSU's fan bus will depart from the shuttle station at Bear Park North on the MSU campus at 9 a.m. Friday. Cost of the trip is $375 and includes bus fare, two-night hotel stay at the Marriott Marquis (2121 South Prairie Ave.), ticket and a pep rally before Saturday's game. Sign up by calling The Bears Fund at 417-836-4143.
A pregame pep rally will be held at Fatpour Tap Works 2005 W Division St. in Chicago from 3-4:30 p.m. Saturday. Appetizers and drinks are provided, and a cash bar is available.
Missouri State's Traditions Council is sponsoring a trip for students. With a BearPass, students receive transportation to and from Chicago on Saturday, a game ticket, and one meal in en route. Bus departs at 7:45 a.m. Saturday and returns after the game. Sign up in the Office of Student Engagement (PSU 101) or call 417-836-4386. No cost for the first 50 students, though a $10 refundable deposit is required.
A watch party is set for Saturday at Buffalo Wild Wings (900 E. Battlefield) in Springfield. Tip is scheduled for approximately 5:30 p.m., 30 minutes after the 3 p.m. Notre Dame/Texas A&M game at Wintrust Arena.
A team send off will take place Thursday at JQH Arena. More details to come once a departure time is determined.
Fan Information for Lady Bears Sweet 16 Trip https://t.co/ir0LJU1K9F

— MSU Lady Bears (@MSULadyBears) March 27, 2019