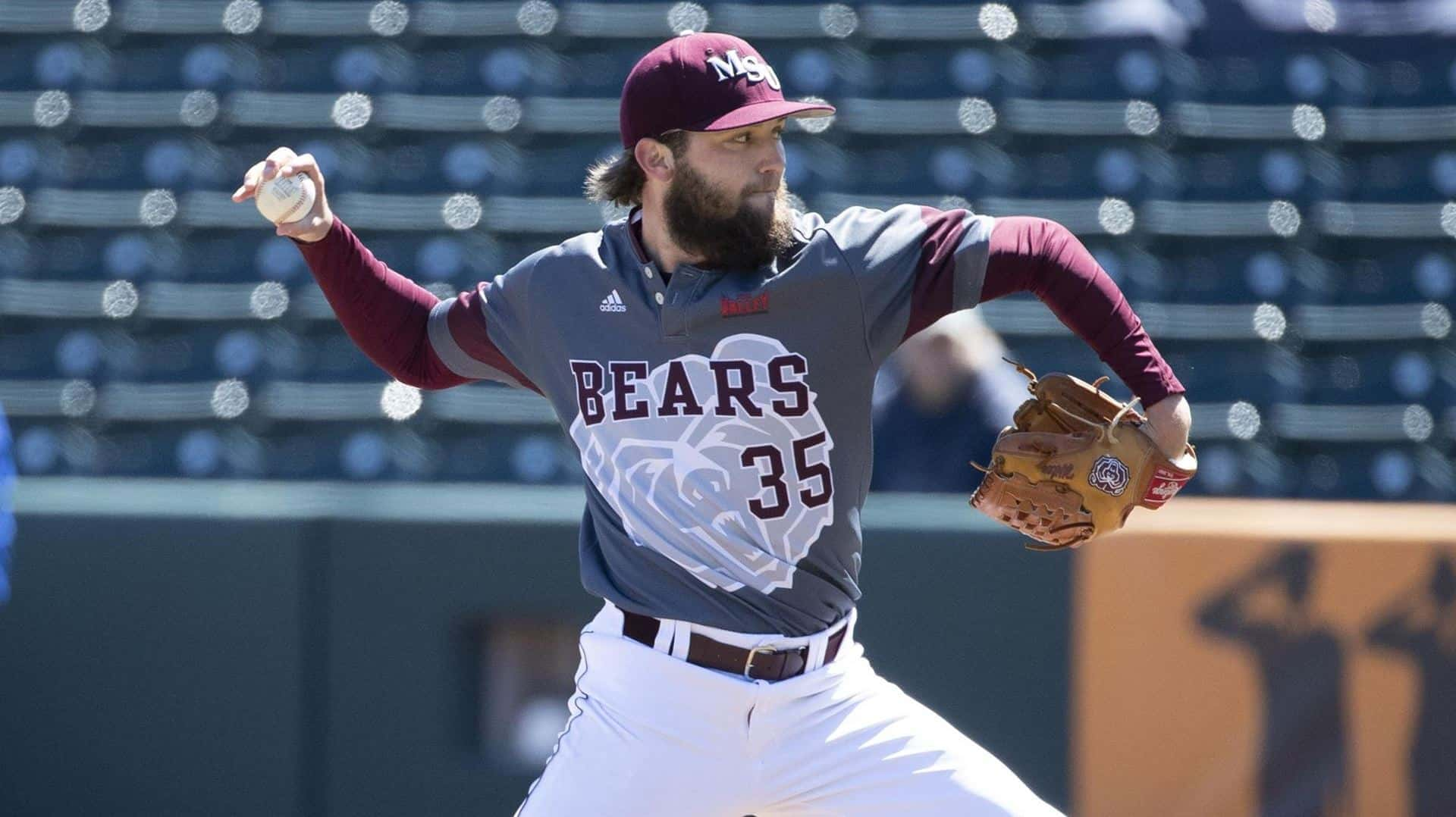 SPRINGFIELD, Mo. – Missouri State made the most of its only run in a doubleheader split with Indiana State Sunday afternoon, plating the game-winning run on a bases-loaded walk in the 12th inning to secure a 1-0 victory and a Missouri Valley Conference opening series win over the Sycamores at Hammons Field.
Four MSU hurlers combined to strike out 13 Sycamores over 12 shutout innings in the opener, led by Logan Wiley's career-long 7.1 frames. Three hurlers followed with 4 2/3 innings of one-hit relief, withHayden Juenger (1-2) working the final 1 1/3 innings to earn his first collegiate victory.
Indiana State responded in game two with four first-inning runs before breaking the game wide open with a six-run third, ultimately posting a 12-0 victory. Tyler Whitbread (5-0) tossed the seven-inning, complete-game four-hitter to help ISU salvage the final game of the series.
Game 1 – MSU 1, Indiana State 0 (12 inn.)
Javier Ramos coaxed a bases-loaded walk with one out in the 12th to bring in the lone run of the opener—and the Bears' only tally on the afternoon. Logan Geha sparked the rally by driving a leadoff single to left. Jack Duffy chopped what appeared to be a double-play grounder to first, only to see the play ruled dead as a foul ball.
Given new life, Duffy stroked a base hit to center, forcing the Sycamores to issue an intentional walk to Joey Polak. Following a strikeout of Juenger, Ramos watched four straight balls from ISU reliever  Evan Giles to force home Geha with the game-winning run.
The Bears' second consecutive extra-innings win over the Sycamores was made possible by the effort of Wiley, who scattered six hits and struck out six without issuing a walk. The junior right-hander didn't permit more than one ISU baserunner in any of the eight innings he started.
Connor Sechler piggy-backed Wiley with 2 2/3 hitless frames, striking out five ISU hitters. The sophomore All-American would work out of a jams in the eighth and ninth innings, striking out the side in the latter after a two-base throwing error opened the inning.
Juenger followed suit with a dominant outing, recording the final out of the 11th on a strikeout to strand the bases full of Sycamores. He struck out another ISU hitter in the 12th to set up the decisive rally in the home half of the inning.
ISU's Collin Liberatore matched Wiley's start with a solid 7 1/3 innings of his own. He fanned eight Bears, allowing just one hit and walking four. Geremy Guerrero (1-1) held the Bears in check for 3.1 innings, striking out seven MSU hitters and allowing just one hit prior to the 12th.
Game 2 – Indiana State 12, MSU 0 (7 inn.)
The Sycamores wasted no time in snapping their 17-inning scoring drought in the night cap, taking advantage of three consecutive walks from MSU starter Ben Cruikshank (0-1) to seize the upper hand for good. Romero Harris laced a two-run single to center to open the scoring, before Jarrod Watkins made it a three-run rally with a sacrifice fly. Dane Tofteland's two-out single chased home a fourth run in the rally, kicking off a 2-for-3 performance for the senior first baseman.
ISU (21-4, 1-2 MVC) went back to work in the third to put the game out of reach, sending 10 hitters to the plate as part of a six-run rally. Roberto Enriquez singled to start the inning, before a Joe Boyle base hit and a hit batsman loaded the bases and ended Cruikshank's day.
Tofteland drew a walk to record his second RBI of the contest, followed by Max Wright's run-scoring grounder to first. Back-to-back RBI singles from CJ Huntley and Clay Dungan stretched the margin to 8-0, before Jake Means made it a double-digit advantage for the Sycamores with a two-run double.
Whitbread cruised throughout his performance, allowing just a Mason Hull double and a Dakota Kotowski infield single over  the first five innings. The righty worked around a Kotowski double in the sixth and a Duffy single in the seventh, wrapping up the run-rule victory with his ninth and 10th strikeouts in the final inning.
Means finished with three RBIs, while Huntley went 3-for-4 to lead an ISU offense that featured eight different players who drove in at least one run.
Up next, the Bears (7-19, 2-1 MVC) embark on a nine-game road swing, beginning with a Tuesday (April 2) trip to Cape Girardeau, Mo., for a 6 p.m. contest with Southeast Missouri.