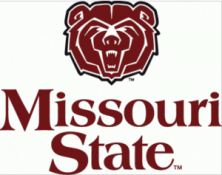 EVANSVILLE, Ind. – Missouri State scored nine times over the final four innings to wipe out a seven-run deficit and level its series against Evansville with a 10-9 victory over the Purple Aces on a rain-soaked Saturday afternoon at Braun Stadium.
Brooks Zimmerman's solo shot to lead off the ninth inning snapped a 9-9 deadlock and capped a career day for the MSU senior, who logged critical hits as part of three separate scoring rallies in the late innings. Zimmerman finished 3-for-5 with a career-best four RBIs, including a key run-scoring hit in the sixth that started the Bears' comeback from an 8-1 deficit, as well as a seventh-inning single that plated two more runs.
Zimmerman and freshman shortstop Mason Hull combined to drive in eight of the Bears' 10 runs, while freshman outfielder Dakota Kotowski added two hits and reached base safely in four of his five trips to the plate.
Sophomore right-hander Zach Gibbs (1-0) worked a perfect eighth inning to earn his first collegiate mound victory, before closer Connor Sechler fanned a pair of Aces as part of a 1-2-3 ninth to secure his fifth save of the season.
The Bears' comeback marks their second come-from-behind victory after trailing by at least seven runs this spring. On March 15, MSU posted an 11-8 win at Oklahoma after erasing an 8-0 deficit, which is believed to be the largest comeback victory in program history.
The eventual final outcome came in spite of a steady rainfall, as well as an Evansville offense that scored eight times over a four-inning stretch to build a seemingly-comfortable lead for starter Justin Hayden. After UE plated a pair of second-inning runs to negate the Bears' initial run of the game on a Hull RBI chopper to short following Logan Geha's one-out triple, the Aces added another run on an A.J. Fritz sacrifice fly in the fourth, then erupted for five runs in the fifth.
A Troy Beilsmith single and three walks from MSU reliever Nick Schmidt set the wheels in motion for UE, which got a three-run triple from freshman Danny Borgstrom and an RBI double from Fritz to create what appeared to be a sizable advantage.
But the Bears (16-33, 7-10 MVC) began their quest for a comeback with a three-run rally of their own against Hayden in the sixth, using a two-out walk to Anthony Herron, Jr., to keep the inning alive. Zimmerman followed with a base hit to left, before Hull drove in his second run of the day with a base hit and Jack Duffy coaxed a bases-loaded walk from reliever Michael Parks to make it an 8-4 contest.
Following a two-out, solo blast from Nate Reeder in the bottom of the sixth, the Bears mounted yet another two-out rally in the seventh, this time aided by a pair of Evansville errors. The first of two straight hits by Kotowski started the threat, before a misplay on a grounder to third opened the door further for the Bears. Zimmerman cashed in again, drilling a two-run single to left, just ahead of a second UE error on Geha's slow roller to short.
Hull made the Aces (22-24, 9-8 MVC) pay once more, lacing a two-run double into the right-center field gap to pull the Bears to within a single run at 9-8. MSU used some clutch defensive play to keep the score there, as Drew Millas gunned down a would-be base-stealer, and Duffy and Hull combined to throw out a runner at the plate to end the UE seventh.
A third two-out MSU rally finally pulled the Bears even in the eighth after Ben Whetstone delivered his second hit of the game to fuel another scoring threat. Kotowski's infield pop-up fell in for a single, and Herron's fly ball to right-center eluded a pair of UE defenders to bring in Whetstone with the equalizing run. In all, MSU tallied eight-straight two-out runs to pull even, before Zimmerman's leadoff blast on a 2-1 pitch from UE reliever Garrett Presko (0-1) in the ninth.
Gibbs and Sechler closed the door on UE by retiring the final six hitters of the game in order, as UE managed just two hits  following the Reeder homer in the sixth.
Fritz led UE's 11-hit attack with a 3-for-3 day that included three RBIs, while Beilsmith and Sam Troyer contributed two hits apiece.
The Bears and Purple Aces wrap up their three-game series with a 1 p.m. (CDT) contest Sunday.
Courtesy of Missouri State Department of Athletics Communications