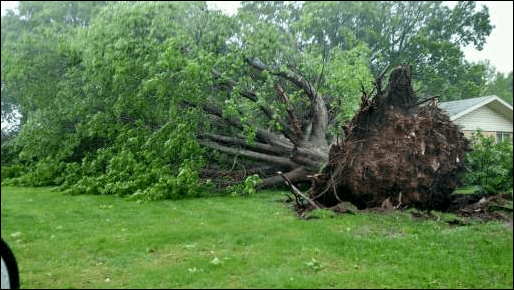 Photo Credit Joni Mallinckrodt
Severe Weather moved through southwest Missouri Saturday afternoon producing winds in excess of 50 mph. Multiple damage reports came in from around the Ozarks.
In Springfield, KTTS News received reports of tree limbs falling down near Battlefield Mall. In Ozark, strong winds removed pieces of metal roofing and downed several trees. A large tree also fell down on Farm Road 205 and 132.
South of the Springfield Metro in Hollister, reports came in of gas leaks and trees down on top of a commercial building near highway BB and business 65. Western Taney County Fire has dispatched to repair downed power lines and a transformer fire. Two houses and a business on Aunt's Creek road in west Branson sustained roof damage.
In Walnut Shade and Taneyville, multiple power lines were down. Ava saw some damage to cars and roofs.
West of the Springfield Metro, in Freistatt, a large tree was uprooted by strong winds.
In Ozark County, reports of multiple trees and Power-lines down from Dora to Theodosia. Two hundred and twelve people were without power at 7 p.m.
As of 9:30 p.m., 320 people in Douglas County were still without power. Norwood, in Wright County, was also without power.
Fallen tree limbs were reported throughout the entire KTTS listening area.