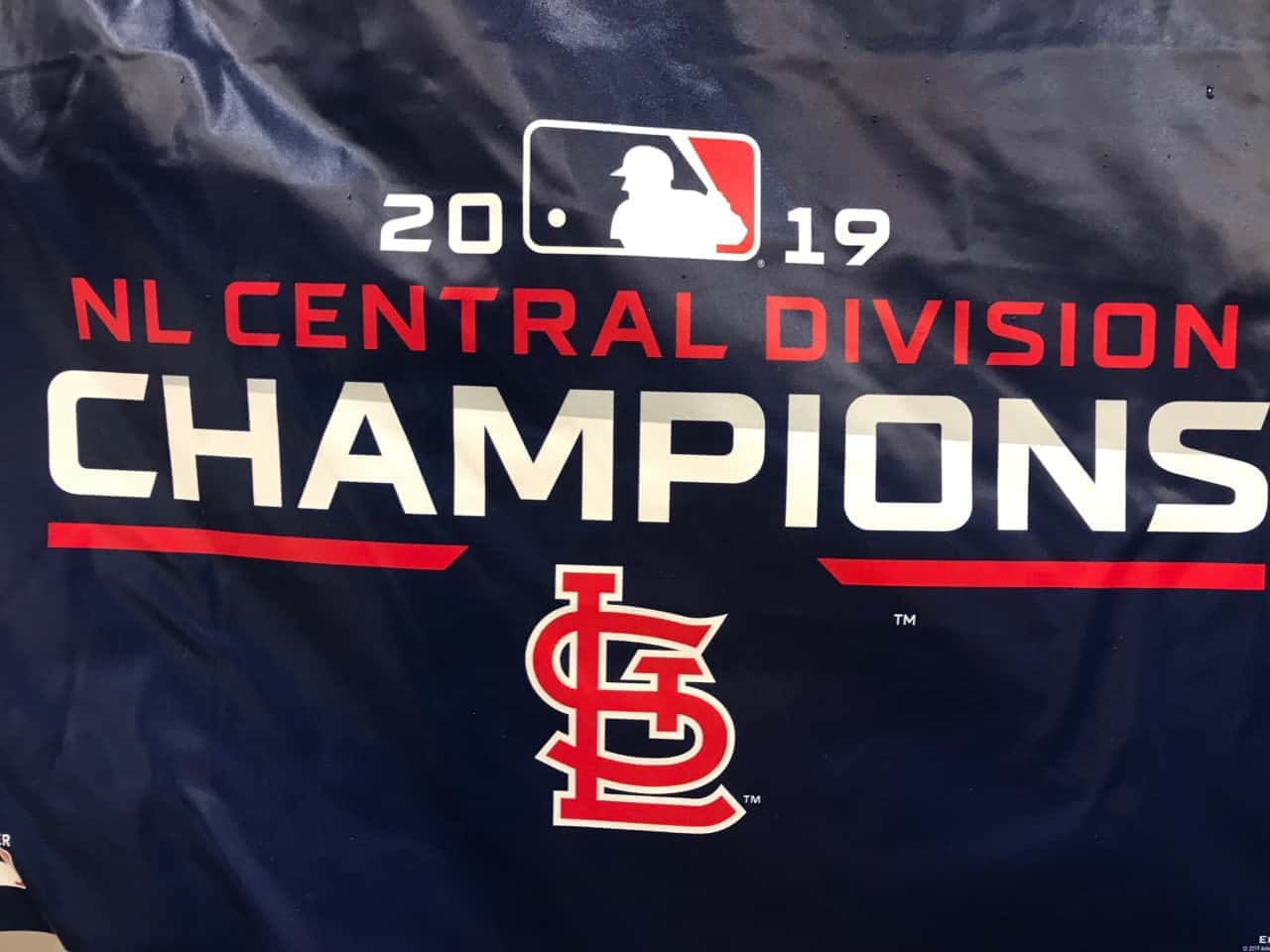 The St. Louis Cardinals have won the National League Central Division on the final day of the season, blasting the Chicago Cubs 9-0 Sunday afternoon at Busch Stadium.
The Cardinals will take on the Atlanta Braves in the National League Division Series beginning Thursday at Sun Trust Park in Atlanta.
St. Louis got brilliant pitching from its ace, Jack Flaherty (11-8), who got a curtain from the sellout crowd of 47,212 when being lifted for a pinch hitter in the bottom of the seventh.
The Cards' offense jumped on Cubs starter Derek Holland (2-5) early, scoring two runs in each of the first two innings, four more in the third, and another in the fourth to jump out to a 9-0 lead.
Dexter Fowler, Matt Carpenter and Paul Goldschmidt all went deep in the game.
Champagne on ice and ready to go!
The win caps a regular season that saw the Cardinals go from a first place team at the end of April to a dismal 9-18 record in May, leaving them tied for third.
St. Louis went into the All Star break with a 44-44 record, still in third, but only two games behind the first place Cubs.
By the end of July, St. Louis was 57-50 and tied for first with Chicago.
The Cards went 34-21 the rest of the season, grabbing sole possession of first place on August 23rd.
They finish two games ahead of the Milwaukee Brewers, who lost 4-3 in 13 innings at Colorado Sunday.
St. Louis finished second in Major League Baseball in attendance for 2019, with 3,480,393 fans coming through the gates at Busch Stadium, the fifth highest mark in franchise history.
For the players, managers and coaches, this one was special.
"You believe in a group that has a lot of talent, dedication and desire everyday to compete and win, that's a special combination," Manager Mike Schildt said in a champagne-drenched Cardinals clubhouse. "That's an easy combination to believe in."
General Manager John Mozeliak put it simply: "This team was built to win and did what we were supposed to do."
Mozeliak says what Schildt has been able to accomplish with team in his first full season is special. "When you make a change like that, it's never easy. He's extremely strategic about process and what he wanted to see happen. You think a lot about the narratives we saw last year, he corrected them, he and his staff. It's really extraordinary how he's pulled it all together."
For veteran hurler Adam Wainwright, these celebrations never get old. He things this team may win for awhile. "It could be the start of a new dynasty. We've got some young players and young starting pitchers that are real studs."
Second baseman Kolten Wong tells KTTS News this team overcame adversity throughout the season. "The fact we continued to push, continued to fight and got to the position we're in right now. We're N.L. Central champs. You can't really knock us on that. We're going to take that. We're going to run with it and we're going to take that to Atlanta."
Game Notes: 
Flaherty moved into sixth place in Cardinals history with 231 strikeouts in a season, and finished the season with a 0.91 ERA following the All-Star break.
Carpenter's home run was the 21st in his career against the Cubs, his most against any MLB opponent.
St. Louis snapped a four game losing streak and recorded its 14th shutout of the season.
Goldschmidt finished the season with 34 home runs and 97 RBI.
Chicago announced before the game that manager Joe Maddon would not be returning next season as manager.