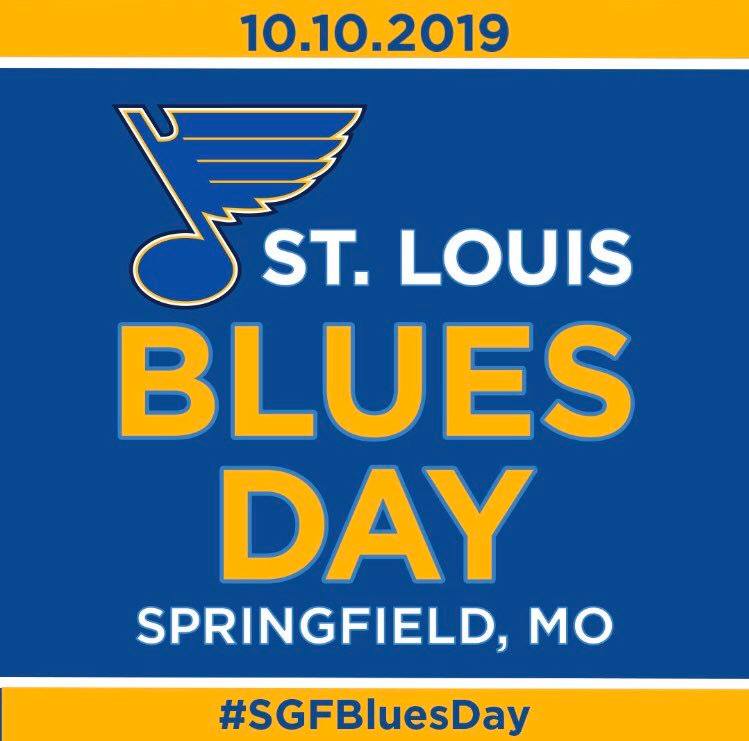 The Stanley Cup will be in Springfield Thursday.
The Cup is being brought to Springfield, Missouri after local leaders worked with the St. Louis Blues to celebrate the first Stanley Cup championship in Blues' franchise history.
The Cup will be on display in different locations in Springfield throughout the afternoon into the evening, starting at Bass Pro at 3 p.m. and end with the Cup on display at Park Central West until 11:30 p.m.
For More Information including times and locations, read below or go to sgfbluesday.com
____________________________________________________________
Mayor McClure declares Oct. 10 "St. Louis Blues Day" in Springfield
Stanley Cup to travel to Springfield
FOR IMMEDIATE RELEASE
Springfield Mayor Ken McClure is encouraging Springfieldians to "turn the city blue" in honor of the champion St. Louis Blues Hockey Team on Oct. 10. Local leaders from both the private and public sector have worked with the St. Louis Blues to bring the storied "Cup" to Springfield and citizens will have the chance to view it and join a community-wide celebration.
The Stanley Cup is the oldest trophy competed for by professional athletes in North America. It was donated by Governor General Lord Stanley in 1892 for presentation to the top hockey team in Canada, and was first awarded to the Montreal Amateur Athletic Association (1892–93)
From its modest beginnings as a bowl measuring 7.28 inches in height and 11.42 inches in diameter to its larger-than-life status today as arguably the most famous sports trophy in the world, the Stanley Cup has always held sway over the imagination of those who have competed for it. It measures 35.25 inches tall and weighs 34.5 pounds.
"It's tough to beat the allure of the Stanley Cup." says event organizer and local attorney Joseph Passanise. "Blues Nation is alive and well in Southwest Missouri and we are blessed to have the "Cup" to share with everybody."
The St. Louis Blues have qualified for the playoffs in all but nine of their 52 seasons, appeared in the Stanley Cup Finals four times, but have won it only once – this past June.
"We are thrilled to celebrate the extraordinary championship win," says Mayor McClure. "Springfield loves hockey and we love the Blues." McClure announced at a news conference Wednesday that he hopes Springfieldians will get creative in supporting our "neighbors" to the East and invites citizens in surrounding communities to join in the festivities.
Missouri State Hockey General Manager Ryan Armstrong is thrilled to see the sport getting the attention it deserves and promises a lot of exciting action at the Jordan Valley Ice Park for this year's MSU season. MSU Ice Bears is a Division 1 member of the American Collegiate Hockey Association. The team's first weekend at home is Oct. 4 against the University of Colorado, a Western Collegiate Hockey League opponent, at 7 p.m.
"We are proud to invite families from all across the region and statewide to come join us for a citywide celebration of hockey and celebrate the St. Louis Blues historic championship," Armstrong said. "This is the ultimate Blues hockey event in Springfield and we hope fans will show up in their blue and gold and that organizations across the community will turn the town into a sea of blue for this historic day that keeps the celebration going!"
Jordan Valley Ice Park is the home for the MSU Ice Bears and various youth sports programs. The multi-purpose arena opened in 2001 and is located in downtown Springfield and owned and operated by the Springfield-Greene County Park Board.
The "Cup" Tour:
3 – 5:30 p.m. – Kick off the Blues Day celebration at the Grandaddy of All Outdoor Stores! Bring your friends and family to Bass Pro Shops Outdoor World to be a part of this historic event and take a FREE photo with the Stanley Cup. Fans will be served on a first come, first served basis.
"Bass Pro Shops is excited to host the most legendary trophy in all of sports at our flagship outdoor store," said Lee Beasley, General Manager of Bass Pro Shops Outdoor World. "As the number one tourist destination in Missouri, we proudly welcome and invite all fans to join us for this historic celebration and opportunity of a lifetime to pose with the Stanley Cup and celebrate our world champion St. Louis Blues."
7:30 p.m. – The "Cup" will be on display at Harbell's and Falstaff's and in Park Central West. A street party will take place 6 – 11 p.m. at Park Central West, with music, live entertainment, and viewing of the St. Louis Blues at Ottawa Senators on multiple screens.
Around 8:30 – 11 p.m.  – The "Cup" will be displayed on an outdoor stage in Park Central West.
12 a.m. – The "Cup" goes to bed. (It has a curfew)