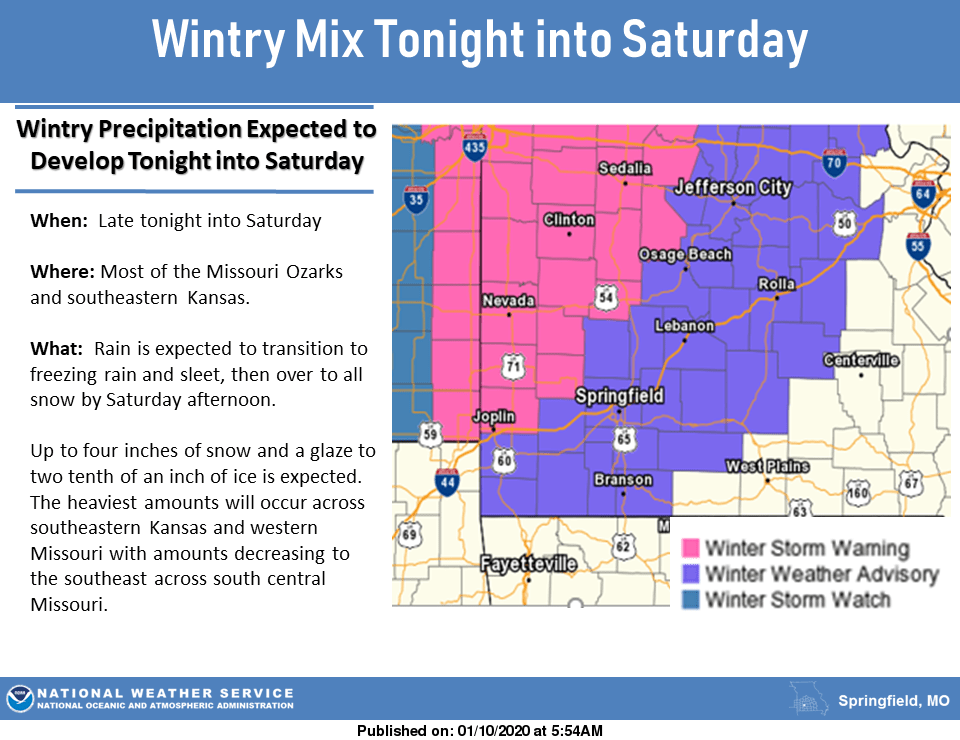 A winter storm will impact parts of the Ozarks Friday night and during the day on Saturday.
As colder air moves into the Ozarks Friday night, rain will transition to a wintry mix of freezing rain, sleet and snow into the overnight hours, especially northwest of Springfield.
A winter storm warning is in effect from 6 p.m. Friday through midnight Saturday night for areas north and west of Springfield, roughly along and north of a line from Joplin to Hermitage.
Heavy mixed wintry precipitation is expected, with total snow accumulations through Saturday of two to four inches and ice accumulations of one tenth to two tenths of an inch.
The combination of snow, sleet and freezing rain will make traveling hazardous, including drivers headed to the Kansas City area on Saturday.
Quickly falling temperatures may lead to a flash freeze on roads and other surfaces.
Much of the rest of the Ozarks, including the Springfield metro area, are under a winter weather advisory from midnight Friday night through midnight Saturday night.
Rain will change to a mix of snow, sleet and freezing rain from west to east late Friday night into Saturday.
Total snow accumulations of a half inch to two inches are expected, with the greatest amounts north of I-44.
We're anticipating around an inch of snow in the Springfield area.
Ice accumulations up to one tenth of an inch are expected in the advisory area.