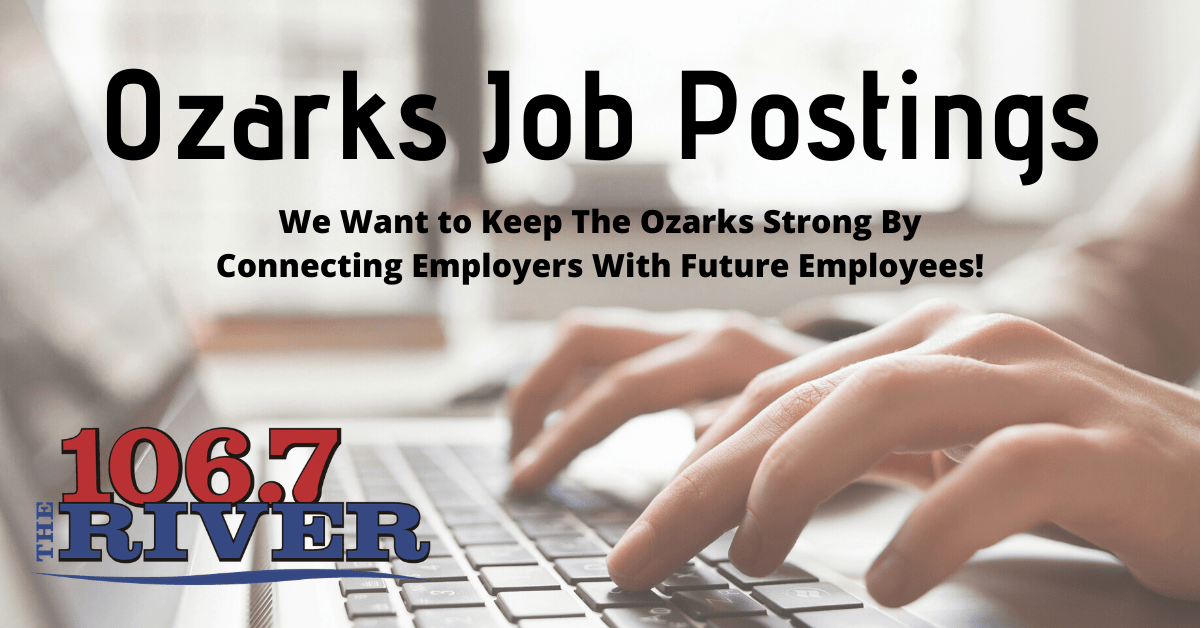 All of us at 106.7 The River are saddened by the challenging hardships placed on our friends and neighbors during this time. With that in mind, The River wants to help keep the Ozarks Strong!
Allow us to use the power of 106.7 The River, and radio, to help local businesses that are looking to hire new employees during this time!
If you are an employer who is interested in utilizing this service, please fill out our form when you CLICK HERE! We will post your job opening below. if you have any questions or concerns, feel free to contact us via email at hewson.beattie.summit@gmail.com.
If you're a potential employee, looking for a job here in the Ozarks, please look to our list of hiring companies below.
Thank you from everyone at 106.7 The River! Let's work together and keep the Ozarks Strong!
Companies in the Ozarks Taking Applications (company names appear in alphabetical order):
Angel Animal Hospital– Looking for qualified individual(s) to work on our conventional and/or alternative/natural care side of the hospital. Multiple positions are available now and in the coming months this year including reception and veterinary assistant positions as student employees graduate and relocate. Opportunities to work in the conventional, alternative care areas of the hospital or both, are available and dependent on the qualifications and interests of the applicant. Duties will include answering phones, client communication, appointment scheduling, assisting with patient exams, surgery, treatments, running lab work & various other situations and duties where you will interact with pets and clients. Must be able to lift min. 30 lbs. Hours vary with training, experience, performance and motivation. Applicant must be a team player, punctual, reliable, responsible, intuitive, willing to learn, and a great communicator with a warm and friendly personality. Integrity and honesty are also highly valued qualities among our employees. Experience is not required but preference will be given to applicants with previous experience and a demonstrated track record of success and accomplishment. Total compensation after training is dependent on the motivation and production of the individual and will be based on a ProSal model. Our employees share in the success of the hospital.
NOTE: Follow instructions precisely when applying. Submit application via the email address only, aah@angelanihosp.com. DO NOT contact business by telephone or in person unless instructed to do so. Individuals that do not adhere to this requirement WILL BE disqualified from consideration. This is a first screening step to see if the applicant can follow directions. Resumes will be reviewed and applicants to be considered further will be contacted with further instructions.
Cliffs Resort Table Rock Lake – Cliffs Resort Table Rock Lake is looking for employees to fill Front Desk/ Maintenance/ Laundry/ Housekeeping positions. Potential hires must be able to walk up and down stairs, lift over 20 pounds, and have a reliable form of transportation. For job specific details, or to apply for this position, please contact Kylie via email (cliffstablerock@gmail.com) or phone (417) 337-5447.
Diesel Exchange Inc. – Diesel Exchange Incorporated is looking for the right applicants to fill the 'Mechanical Technician', 'Industrial Maintenance Technician', and 'Engine Machinist' positions. DEI is a respected leader in heavy duty engine re-manufacturing, excelling in safety, quality, and customer responsiveness. Our modern climate-controlled facility, including an air-conditioned plant, is located on 19 acres at 3811 E. Kearney in Springfield. We feature high quality equipment and technology, including computerized engine dynamometer testing bays and machine shop. We specialize in engines ranging from 100-3000 HP used in a wide array of markets. Please contact careers@dieselexchange.com for all inquiries or to submit a resume.
Enersys-Northstar Battery – EnerySys in Springfield is growing! They have two plants, benefits at 30 days, and 401 (k) with 6% matching after 60 days! Open positions include: Hourly Production, Customer Service, Engineers, Managers, and Maintenance Technicians. Apply online when you CLICK HERE, or apply in person when you visit 4000 E. Continental Way or 1320 N. Alliance in Springfield, MO!
Come grow with EnerSys
* On the job training
* Starting pay $16.50
* Excellent Benefits  30 days
* 401 (k) with 6% match after 60 days
* Climate controlled work environment
*Stay Bonus
*Referral Bonus
Elite Outdoor Innovations – Elite Outdoor Innovations is looking for general laborers and mowing crew personnel. This position requires that the applicant is insurable and has a valid drivers license. If you're interested in applying for this position, contact Elite Outdoor Innovations by clicking on their name above!
Greene County Sheriff's Office – The Greene County Sheriff's Office is looking for a Detention Officer to provide inmate custody, security, and control tasks. Applicants who are interested in becoming a Detention Officer must have a high school diploma or GED, and must be at least 18 years of age. A valid motor vehicle operator's license is required. military, security, or criminal justice experience/ education is preferred. Vocational or technical training in office procedures, preferably related to law enforcement is desired. Any combination of education and experience that provides equivalent knowledge, skills, and abilities will be considered. If you are interested in applying for this position CLICK HERE!
Haven Health Care – Haven Health Care is looking to hire Caregivers to provide companionship, assistance, home care, and direct support to elderly clients in the area. A valid drivers license is required for this position. If you're interested in applying for this position, contact Haven Health Care by clicking on their name above!
Home Court Advantage – Home Court Advantage is looking for team members to join their Direct Care Staff. They are looking for fabulous people to join their amazing team! Day shifts, over nights and weekends! To be considered for this position you will need a state issued ID, SS card, High School Diploma/ GED, and will need to pass a background check. If you are interested in finding more information, or filling out an application, visit their website when you CLICK HERE.
Kirberg (Springfield Office) – Now taking applications for roofers. Work would include roofing repairs, roof replacements, and roof installations for residential homes or commercial buildings. Interested candidates can contact Darrell Connell at 417-429-1081 or by emailing Darrell.connell@kirberg.com.
Loren Cook Company – The Loren Cook Company has openings for 2nd shift production. Openings include: Assemblers, Painter Helpers, Machine Operators, And Craters. Experience with hand and power tools, blueprints, tape measures is a must. Starting pay is $16.65 – $18.45 with guaranteed increases totaling 2.40 in the first year! We are searching for candidates wanting longevity. Click their name above for more information or to apply today!
Ozark Fence & Supply CO – Ozark Fence & Supply CO is looking for experienced wood fence installers. They are currently planning to add two experienced wood fence installers to their team. Applicants must have at least two years of verifiable experience installing wood fences. To apply, or to find more details about the position, contact Joe at Ozark Fence & Supply CO. Company contact information can be found when you CLICK HERE.
PHD Painting Inc – PHD Painting Inc (Located in Republic, MO) is looking for experienced painters. PHD Painting Inc works on interiors & exteriors for residential and commercial clients. They are seeking experienced painters with good attitudes and a strong desire to work. They offer benefits after 60 days. Interested individuals must have a valid drivers license, their own transportation, and an active phone. Please note that PHD Painting Inc performs random drug screenings. If you are interested in applying for this position please contact Kelly via email when you CLICK HERE!
SummitMedia Springfield – SummitMedia LLC-Springfield Radio Operations, (106.7-FM KRVI The River, Power 96.5-FM KSPW, 94.7-FM KTTS, and 104.1-FM KSGF-FM) is seeking a talented Advertising & Digital Account Executive who thrives in a fast-paced working environment. We are identifying competitive individuals with a proven track record of over-achieving sales goals. In return, we offer a career opportunity with an innovative and stimulating work environment with one of the best teams in the business. If you're interested in applying for this position CLICK HERE!
The Arc of the Ozarks – Taking applications for direct support professionals to work with individuals with disabilities. Click their name above to learn more or to apply today!
Turf & Beyond -Turf & Beyond is looking for lawn maintenance crew members who can work 30-40+ hours per week (possibly 2-20 hour/week individuals if schedules work), every week through the end of October. The days start around 5:30-6:00 am in Nixa and end at varying times depending on the day, with most days being 10-14 hour days. All candidates must be able to work Monday through Friday with Saturdays/Sundays being an option if there is rain that week. Pay will vary depending on experience with the option for a raise after 90 days. This is a seasonal job but all candidates must be able to work the same hours through the end of October with a possibility of hours in the off season with leaf removal, Christmas light installation/removal and snow plowing. The ideal candidate is someone who knows the business or wants to learn the business. There will be a lot of on the job experiences that will help one build their future of lawn care and business knowledge. This is an outdoor job so all candidates must be tolerable to outdoor elements (including but not limited to heat and cold both, rain, etc). All applicants must be 18 years of age, able to pass a drug test, and have a valid drivers license. If you or someone you know are interested in applying please email all resumes to taylor.friend@turfandbeyond.com.