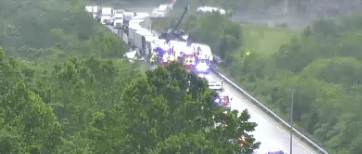 One lane of traffic of westbound I-44 is now open after a deadly eight vehicle crash near Waynesville this morning.
Original Story:
A deadly crash involving eight vehicles shut down westbound I-44 near Waynesville this morning.
MoDOT says the wreck is at the 158 mile marker, and all westbound traffic is being diverted at the 159 Waynesville exit.
The Highway Patrol says six tractor trailers and two pickups were involved the chain reaction wreck overnight.
One of the trailers was carrying pudding, and it spilled all over the interstate.
Troopers say it may be noon before the interstate is re-opened.